We are proud to be the Affinity Partner to the National Farmers Union. We've already helped over 10,000 rural customers to get connected to the latest satellite broadband technology. We're ready to help you get connected to a fast and reliable broadband service – wherever you need it, whenever you want it.
About Satellite Broadband
We offer 100% coverage of the UK right now and usually connect people in 7-10 days
You can choose up to 22Mbps download speeds/6Mbps upload speeds
We offer flexible monthly data packages from 5GB up to 150GB
Our Next Generation satellite services have never been more affordable
- up-front costs from just £50
- monthly costs from just £19.95
As an NFU member, you qualify for a extra discounts worth over £100
NFU members benefits worth over £100
If you are NFU or NFU Countrywide member, we offer the following discounts to our standard pricing shown on the website. To ensure that you receive these additional discounts worth over £100, you need to place your order by telephone at 0303 303 3131.
50%off our standard Wireless router saving £35
FREE Professional Installation service saving £100
20% discount on our cost-saving VoIP service saving £20
Getting Connected
No matter how remote your location across the UK, we can get you connected to broadband. Getting installed and online is really simple - here's what you need to know
If you choose our professional installation service, we can usually arrange to get you installed on mainland UK within 7-10 days
We install a 74cm dish outside on southerly facing wall (just like Sky) that is connected by cable to an indoor modem. A standard installation normally takes just 1-2 hours
With a wireless router added, you'll have the ability to connect to the internet wirelessly via suitably equipped PC, tablet or smartphone
Once you're online you can do just about anything – email and web-browsing, social media, phone calls and video-conferencing and streaming or downloading movies. Just about the only thing that we don't recommend over satellite is online gaming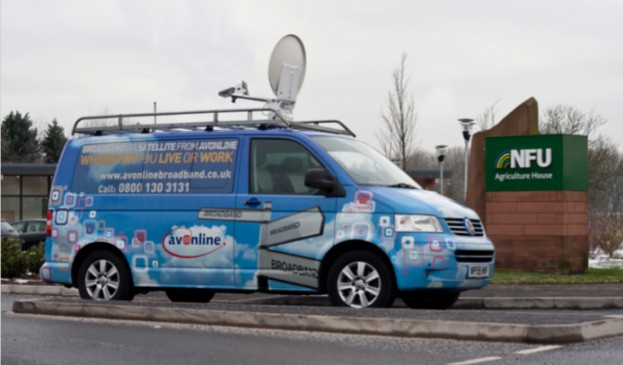 Remember, our NFU discount package is not available online so once you've looked through our online information, call us on 0303 303 3131 and we'll be pleased to help.

Open

Mon-Fri: 8:00am - 8:00pm, Sat: 10:00am - 4:00pm

Or request a call back by leaving your name and number.