Published: 29th Mar 2017
Increasing access to high-speed internet has opened the way to mass consumption of digital media – but do all the resulting outcomes get the thumbs up?
It's easy to spot the advantages of living in a connected world: streaming favourite TV shows on the move, next day delivery from Amazon Prime, tagging friends in videos of kittens on Facebook. But alongside these positives, what are the real impacts on our daily lives?
Sleep comes second
Recent research has shown that for the first time ever the average UK adult spent more time interacting with the digital world and consuming media than they did sleeping.
The most recent Ofcom Communications Report issued in November 2016, showed that well over half of all walking time is now spent online or consuming digital media in some form – in the home, at work and at most points in between.
According to the report:
8hrs 45mins each day is spent connected, compared to 8hrs 18mins sleeping.
Media multi-tasking (also known as meshing or stacking) by 92% of adults meant that we consume media for a staggering 10hrs 52mins per day on average, with the 16-24 age-group topping the pile at 13hrs 11mins daily.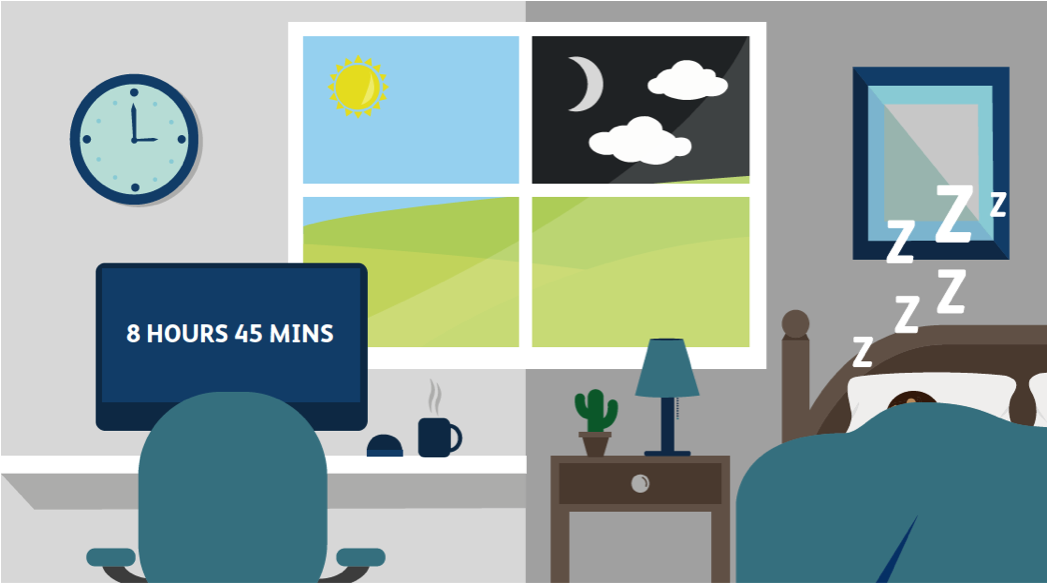 Those numbers are interesting but the habits being created within the younger age groups are even more revealing.
The rate of growth of online interaction is remarkable with mobile internet usage tripling in the past six years. This scale of change is starting to upset social norms and even young adults and children who have grown up during rapid growth in media consumption have a rising sense that their relative lack of personal interaction is contributing to a significant change in the way their lives are lived today.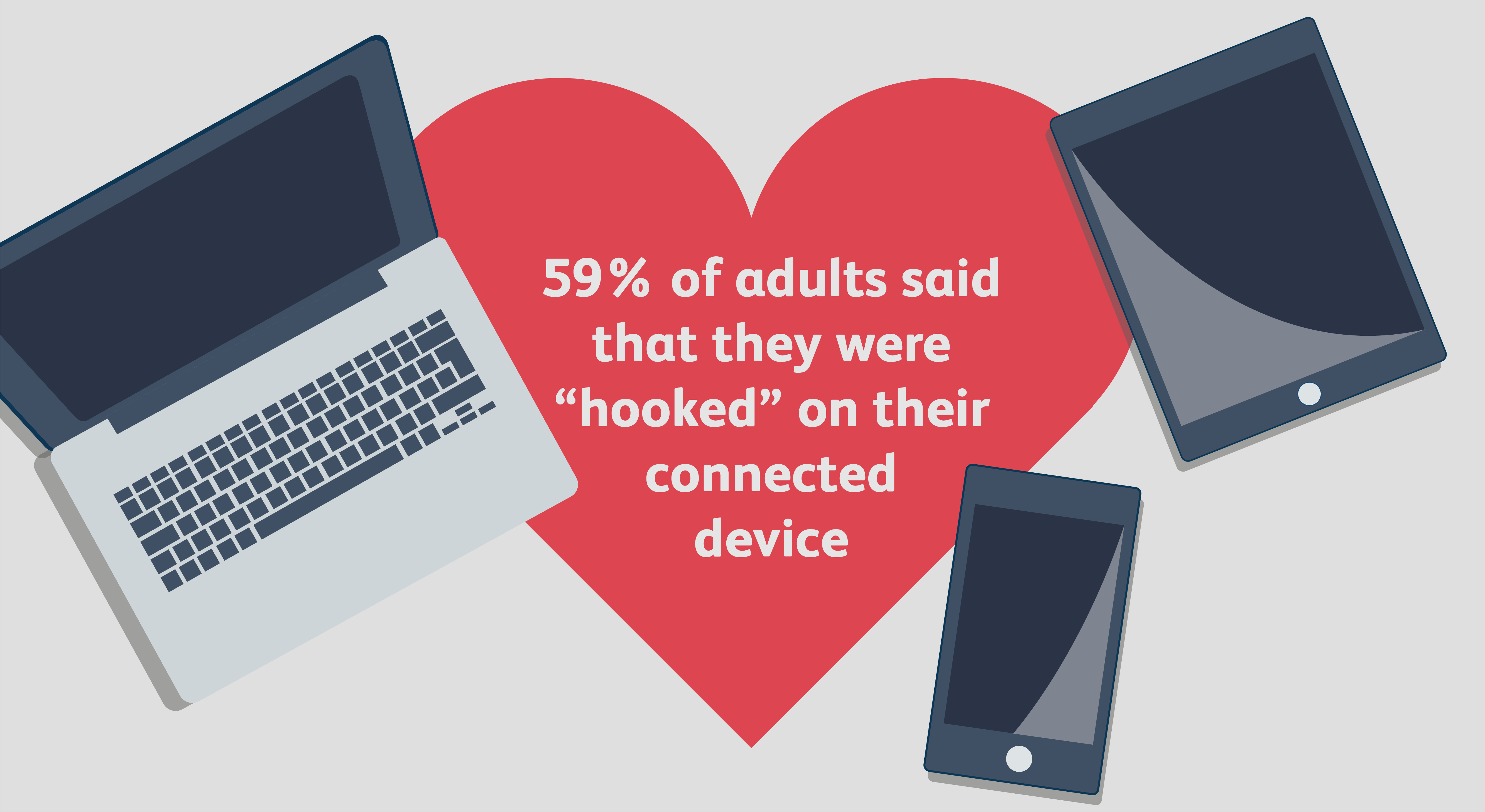 Separation anxiety
In a separate survey conducted during Q2 2016, 59% of adult respondents said that they were "hooked" on their connected device. This dependence rose to 73% for the 16-24s, with almost 60% of this age-group reporting that they feel lost when they cannot access the internet – and a quarter of them feeling nervous and/or anxious when they are offline.
Yet interestingly this same age-group also expressed greatest concern that they spend too much time online - almost 50% higher than all internet users surveyed.
Meanwhile the "teens" (12-15 year olds) polled in this survey rated the importance of the internet and being hooked on their connected device even more highly than the 16-24s - yet only one third of them felt that they spent too much time online.
Could the bubble be about to burst?
Both the highest-consuming 16-24s and the 25-34s each also showed a reduction in actual and total time spent consuming on a daily basis compared with a similar survey in 2014.
Although absolute time allocated to media consumption has only declined by a couple of per cent - 11 and 12 minutes respectively - the time spent engaged in multiple activities at the same time (stacking) has dropped markedly, with a total time reduction of 55 and 60 minutes for the two age groups.
So with these age-groups returning the highest response rates that too much time was being spent online, does this reduction indicate the first signs of self-imposed moderation? If the scale of cutback is currently too slim to say that the connectivity bubble is about to burst, it certainly suggests that a slow puncture might just be taking place.
Digital detox
The second survey found that around 1 in 4 internet users had taken a conscious break from their normal online routines in the month before they were polled. The figures suggest that this is not a widespread phenomenon amongst internet users as a whole just yet, but was, perhaps surprisingly, markedly more common in teens and 16-24s. Half of 16-24s confessed to having digitally detoxed in the last 12 months.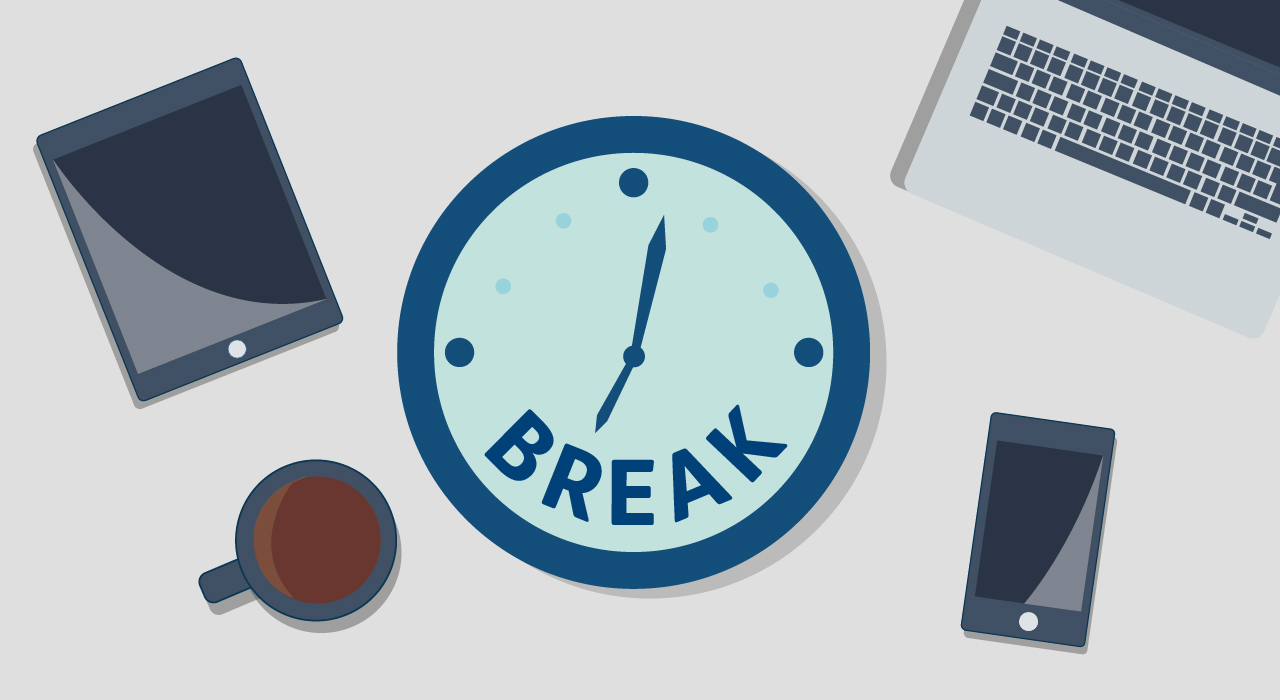 Small steps back into the offline world
As considered withdrawal from online consumption becomes more commonplace, it follows that temporary respite from the negative aspects of high consumption will be displaced by more constructive downtime habits, at home, with friends and at work.
Starting with small manageable objectives seems to be the most successful path to addressing the balance between online and 'real' worlds – with a first step of cutting the time spent internet browsing or engaged with social media. Many identified the benefits of making a physical switch, such as completing a physical task around the home rather than endlessly researching, or actually going shopping rather than shopping online.
Setting the right example
With a large share of the combined 12-24s age-groups living at home, parental guidance and household rules have a big impact on acceptable use standards. Clear boundaries forbidding use at mealtimes or after curfew hours moderates inappropriate use at home. In public locations like restaurants or cinemas, the example can be set by the responsible adults.
The England rugby team this month decided to completely ban the use of smartphones and tablets at mealtimes and anyone breaking the new code has to pay a fine by performing 10 press ups – even if they are coaches or staff. Interestingly, this new rule was suggested and introduced by the players themselves.
The rise of the machine?
The current unprecedented rate of change in media-based consumption is only projected to grow more rapidly, as connected devices, the internet of things and wearable tech all expand. That growth will spread geographically too, as connectivity improves across the globe.
The United Nations has said that helping developing countries build their citizens' access boosts their chances of achieving sustainable economic growth. Google is understood to be investing $1bn in a fleet of satellites so that it can beam internet services across the developing world in a move that will help hundreds of millions of people who do not currently have access to the web to get online.
Considering that the World Wide Web itself was invented less than 30 years ago, the changes that have taken place in such a relatively short time since are truly incredible. And as this wave of digital connection continues to accelerate, it will be fascinating to see how rapidly new social rules can evolve in the real world to keep pace with the change.
Where would you like to go next?
Open

Mon-Fri: 9:00am to 5:00pm Sat-Sun: 10:00am to 3:00pm

Or request a call back by leaving your name and number.